John Heathcoat (1783 - 1861)
Inventor of the bobbin net machine.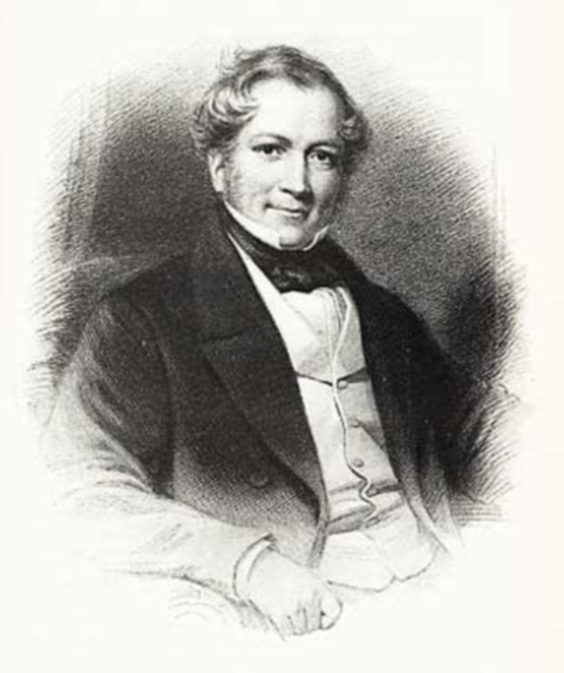 John Heathcoat was born in Duffield, Derbyshire on 7 August 1783, the son of Francis, a small time farmer and Elizabeth Heathcoat.  Soon after John's birth his father went blind which forced him to sell the farm and move to Long Whatton near Loughborough.  Money from the sale was used to buy warp machinery to rent out to framework knitters and generate an income.
Heathcoat was educated at a local village school, possibly in Hathern, where he was reputed to have been a quick learner in both arithmetic and grammar.  He was apprenticed to a Mr Swift to learn framework knitting, but the situation didn't work out and his father cancelled the apprenticeship.  A second apprenticeship was entered into with William Shepherd, a framework knitter from Long Whatton.  During this period Heathcoat learnt how the frame and its components worked.
Heathcoat completed his apprenticeship and became a framesmith in Nottingham working for Leonard Elliot.  Later Heathcoat bought the business from Elliot and ran his own firm.  Heathcoat gained a good reputation for the quality of his work and was employed by many local businessmen to set up frames.
After his marriage to Ann, a widow and daughter of framework knitter William Caldwell, Heathcoat gave up his business to focus on researching a new lace-making machine.  Heathcoat and Samuel Caldwell (son of William) gained their first patent in 1804 'for a new apparatus to be attached to warp frames, whereby all kinds of thread lace and mitts of a lacy description may be made'.  Four years later in 1808 Heathcoat patented his bobbin net machine, followed in 1809 by a patent for an improved machine.  After securing the second patent Heathcoat entered into a partnership with Charles Lacy, a point net lace manufacturer.  By 1816 the partnership had 55 frames working at their factory in Loughborough.
Heathcoat's machine brought him success, but it was unpopular with some people in the industry.  The collapse in demand for stockings in the early eighteenth century cut the amount of work available for framework knitters.  Some had branched out into making lace on their frame, but the introduction of the bobbin net machine threatened this alternative source of employment.  After a period of disruption by Luddite activity in other areas of the region attention was turned to Heathcoat's factory on 28 June 1816.  Seventeen armed rioters attacked the factory and shot at guards placed there to protect the property.  The factory's bobbin net frames worth between £8,000 and £10,000 were destroyed and stocks of lace were burnt.  James Towle, one of the rioters, was later tried for the attempted murder of a guard and executed in August 1816.
Heathcoat and his partners responded to the Luddite actions by relocating their activities to an old woollen mill in Tiverton, Devon.  Growth in the business led to further expansion that harnessed both water and steam power at the mill to drive around 300 machines.  While in Devon, Heathcoat continued to develop and patent further inventions, including some non-textile machines, such as a steam plough.  Heathcoat secured his final patent in 1843 and retired from the business.
In retirement Heathcoat worked to improve the quality of education provision in Tiverton.  He funded the construction of a new school in the town with a boys wing, girls wing and an infant school.  The school opened in January 1843.  Heathcoat also served as Tiverton's Member of Parliament (1832-59), and as a magistrate and deputy lieutenant of the county of Devon.
Heathcoat died in 1861 and left his business to his son.  The business, John Heathcoat and Co Ltd, continues to produce lace goods in Tiverton today.