Samuel Morley (1809 - 1886)
Head of I & R Morley in Nottingham.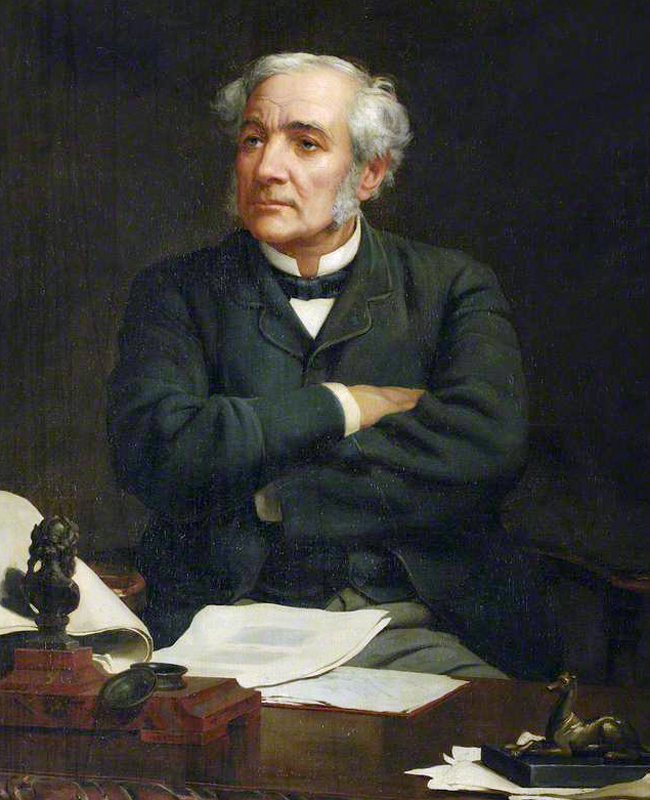 Samuel Morley was born in 1809, the youngest of John Morley's three sons.  His father, and Uncle Richard, founded the family's knitting business and established its London warehouse and distribution base.
The firm of I & R Morley played a significant role in the knitting industry and by 1844 was responsible for 6% of the industry's output.  A forward thinking company, Morleys had established its brand name and developed an identifiable trademark.  Goods marked with the letter 'M' were recognised as being Morleys and high quality goods.
Samuel Morley took over the firm's Nottingham operations in 1855 and the overall business in 1860.  Once in control he implemented an ambitious policy of supplying a wide range of knitted goods to the market.  As a result many varieties, sizes and colours of goods were produced, leading to catalogues of 40,000-50,000 products by the time of the First World War.  The problem of balancing stock levels and finance to pay for stocks was an issue faced by many companies and forced some into financial difficulties.  Morley's policy of expanding the firm's range put pressure on finances and required close and careful management by Morley.
Morley also oversaw the expansion of the firm's factories.  New sites were opened on Manvers Street and Handel Street, Nottingham, and in Heanor, Leicester, Loughborough and Sutton in Ashfield.
In 1865 Morley was elected Liberal MP for Nottingham, and later MP for Bristol between 1868 and 1885.  Morley developed strong links with nonconformist churches and was influenced by the thinking of the church.  He became a prominent member of the Irish Evangelical Society that aimed to support the foundation of nonconformist churches across Ireland.  He also help to build the Congregational Memorial Hall in London and supported William Booth in his work to establish the Salvation Army.
Morley, with his Christian conscience, was also supportive of the working man.  When the Bee-Hive, a trade union weekly newspaper, nearly went bankrupt, Morley and Daniel Platt saved the newspaper by buying up its shares.  In 1871 Morley founded the Warehousemen and Clerks' Association to provide friendly society benefits and health insurance for the firm's staff employed in its Wood Street London warehouse.  The firm also helped to support some of the remaining framework knitters.  Many of the industry's employees had moved into factories by the late nineteenth century, but some still operated hand frames on a domestic basis.  In 1865 Morleys still employed 50,000 framework knitters.  The firm retrained knitters to bring them into factories and paid older knitters small pensions.
After Morley's death in 1886 a number of commemorations were planned in his memory.  A statue of Morley was erected in Bristol in 1887 and Morley Congregationalist Church was built in the city in 1889.  A memorial was also placed in Nottingham Arboretum and a statue in Market Street, Nottingham.