William Felkin (1795 - 1874)
Author of the 'History of the Machine-Wrought Hosiery and Lace Manufactures'.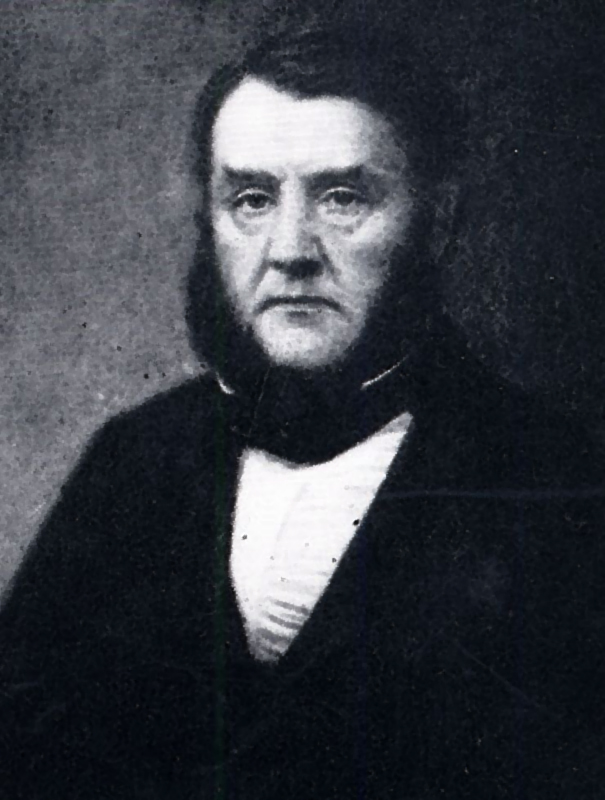 William Felkin was born on 24 April 1795 in Ilkeston, Derbyshire, a town dominated by the coal and knitting industries.  His father, also William Felkin, was a framework knitter and provided William with his first contact with the industry.  The 1790s were a difficult time for the framework knitters of Ilkeston and they complained to hosiers in Nottingham that their wages were not sufficient to support a family.  Felkin later recalled the hardships he faced as a child due to his father's small income.  In 1799 Felkin's father was ordained as a Baptist minister and he gave up framework knitting in 1803.
Felkin was educated at a school opened in 1805 by his father.  At the age of twelve he left the school and became an apprentice to a Castle Donnington baker.  Felkin's father terminated the apprenticeship a year later after a disagreement with the baker and sent Felkin to work with his grandfather in Bramcote, Nottinghamshire, as an apprentice framework knitter.  His grandfather was a successful framework knitter who gained work from Heard and Hurst, suppliers of hosiery to the Prince Regent.  In 1809 Felkin's grandfather secured him an apprenticeship to Heard and Hurst.
Heard and Hurst respected the young Felkin and during the Luddite rebellion he was entrusted to guard the firm's frames against framebreakers.  In recognition of the successful start to his apprenticeship Felkin was sent in 1812 to work in the firm's London warehouse.  He completed his apprenticeship with Heard and Hurst in 1816.
Around 1822 Felkin took up employment with John Heathcoat, the Nottingham framesmith who had invented the bobbin net lace machine.  After working in Heathcoat's London warehouse and at his factory in Tiverton, Devon, Felkin was sent to France and Germany for two years to research silk reeling technology.  In 1826 Felkin returned to Nottingham and acted as an agent for Heathcoat and other lace manufacturers.
While working for Heathcoat, Felkin chaired a committee of Nottingham lace industry machine owners.  The committee met in 1828 to respond to a sudden downturn in the industry.  Felkin and other members of the committee attempted to regulate the number of hours machines were worked, but their actions failed.  Later Felkin chaired a committee that fought unsuccessfully against the export of lace machinery to France.
Felkin established a partnership with William Vickers in 1832 to provide a middleman service and sell net lace on behalf of framework knitters.  The partnership also began to manufacture lace.  When the partnership was dissolved in 1848 Felkin continued to manufacture lace in Kayes Walk, located in the Lace Market area of Nottingham.  In the 1850s Felkin experimented with the production of stockings on powered machines.  By 1861 he had 53 powered machines operating in Beeston and his son had a further 39.
During his time as a manufacturer Felkin lobbied for the establishment of a school of design.  His campaign began in 1836 and finally resulted in the opening of 'The Government School of Design' in Nottingham in 1843.  In 1851 Felkin was appointed mayor of Nottingham and he exhibited the products of the lace industry at the Great Exhibition.
In 1864 Felkin's firm collapsed, although it is unclear as to what the cause was, and Felkin narrowly escaped being declared bankrupt.  With his firm ruined Felkin turned to writing his 'History of the Machine-Wrought Hosiery and Lace Manufactures'.  The book today remains a valuable source of information relating to the development of two key industries.