Twentieth Century Fashions (1950-1999)
Dior, Cardin, Givenchy, Chanel and Ricci were a few of the post war designers to have an impact on women's fashions.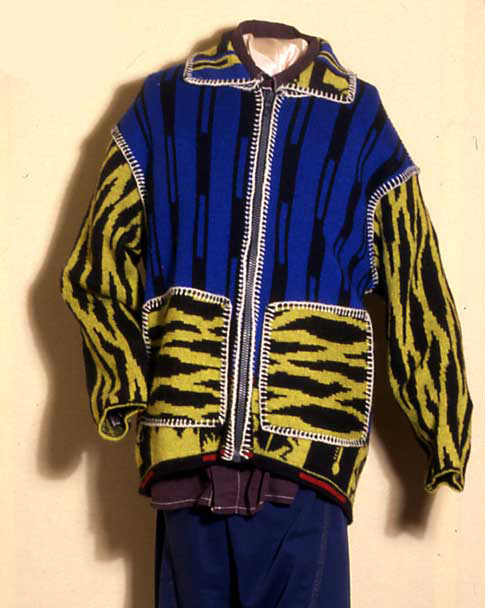 Design houses created an extensive range of new looks for women.  H-line outfits consisted of slender jackets and skirts that were tight at the hem around the legs.  A few years later in 1957, the A-line was introduced.  The A-line was close-fitting around the body and the skirt widened to the knee-length hem.
Twin set, consisting of a colour co-ordinated cardigan and jumper, continued in fashion among older women during the 1950s and early 1960s.  Chunky-knit sweaters were more fashionable for the younger generation.  Jersey knit and drip-dry wool fabrics gained in popularity during the 1950s and thick patterned Aran sweaters from 1966.
The 1960s saw skirt levels rise.  Courrèges raised skirts above the knee and a year later Mary Quant dared to take them higher.  The mini skirt became fashionable for young women and an icon for the decade.  Women also widely wore co-ordinated trousers and jackets as suits for the first time in the 1960s.  Fashions imitated menswear with masculine styled jackets, flared jeans, baggy trousers and waistcoats.  Skirts lengthened again in the 1970s.  Simple dresses of flower-printed cotton were popular.  Matching headscarves were also worn.
During the 1960s and 1980s, retailers manufactured matching sets of skirts, trousers and suit jackets to give women the option of buying trousers or a skirt with their jacket.  Garments were sold in a range of themed colours and designs to allow them to be mixed and matched within other items in the range.  Short skirts returned again in the 1980s, including the frilly ra ra skirt.
Dresses lost popularity as separate blouses and skirts were widely worn by women.  Close fitting fabrics and low cut designs made clothes were more revealing in the 1990s.  Sweaters and cardigans continued to achieve high sales with designs in wool, cotton, synthetic fibres and cashmere.
Women's underwear evolved during this period to be less restrictive than garments worn by earlier generations.  With simpler styles in the 1960s the corset was abandoned in favour of the bra and panties.  Some women even abandoned the bra.  Underwear became increasingly luxurious in the 1980s.
Nylon revolutionised the stocking industry in the post war period.  By 1952, post war recovery had reached a level that allowed resources to be used for the production of large quantities of nylon.  Experimentation with the new yarn produced the finest stockings available, 75 gauge stockings in 12 denier nylon.  Fully-fashioned stockings remained the most desirable and more efficient technology allowed the leg and foot to be knitted in one process.  Techniques were also developed that heated seamless nylon stockings on boards in order to give the stocking a permanent shape.  Seamless stockings no longer bagged around the ankles and became more popular than fully-fashioned stockings because they were more invisible.  New ladder-resistant 'micromesh' stockings were worn from the 1950s.
Rising skirt levels created a problem of how to hide stocking tops and suspenders.  The solution to the problem was to knit a body onto the stocking legs and produce a pair of tights.  Early tights consisted of a long tube of fabric that had feet formed at both ends.  The tube was slit in the middle and seamed to create a body piece the width of the tube.  Other early tights simply sewed two legs to a pair of pants.  Eventually a process was developed to create a fuller body piece.
The popularity of trousers in the 1960s and 1970s encouraged women to wear socks.  Between January and June 1976 twenty one million dozen pairs of tights were produced compared with an annual production of fifty two million in 1972.
The 1980s saw an array of new designs for tights enter women's fashions.  Bright colours, ankle decorations, diaper patterns, lacy patterns, tie-and-dyed, stamped, printed and even tasselled tights were produced for the market.
Twentieth century fashions - men (1950-1999)
Wartime clothes rationing ended in 1949 and fashions underwent a further radical change.  The younger generation rebelled against their war-hardened parents and developed their own unique look to become teddy boys, mods, rockers and hippies.  Teddy boys wore long jackets (sometimes knee-length), thin 'drain pipe' trousers, bright fluorescent socks and thick crêpe-soled shoes.  Slick suits with shirt and tie provided mods with their characteristic style, while their counterparts, the rockers, were more casual and wore black leather jackets and matching trousers.  Hippies turned to nature and wore brightly coloured shirts with flowery prints, flared trousers and bead necklace accessories.
Casual clothes were increasingly accepted as suitable for wearing on most occasions.  Only the most formal events required tail coats or morning suits to be worn.  Modern weddings continue to use the fashions and dress of Victorian Britain, the key participants being in top hat and morning or frock coats.  The 1980s and 1990s saw trousers cut straight and either plain or pleated to the waist.  Turn-ups became popular in the 1990s.  Casual wear included denim jeans, chinos or corduroy trousers.
The American coat-style shirt popular in the 1930s continued to be worn with trousers and remained relatively unchanged.  Short sleeved shirts were popular during the summer season.  Successful casual wear products from the knitting industry included T-shirts, sweatshirts and polo shirts.  Pullovers in wool, cashmere, cotton or mixed yarns were made with bright or neutral colours in a range of patterns and neck styles.  Sportswear, such as tracksuits and ski jackets, was widely worn as an alternative to casual wear.
Men's underwear changed considerably during the second half of the twentieth century and Y-fronts and boxer undershorts replaced heavy combinations and long johns.  Polyester and cotton blends and nylon were widely used for underwear.  Bright colour co-ordinated underwear and bikini briefs became popular in the 1960s.  During the 1980s and 1990s boxers and mini briefs were widely worn and y-fronts became less fashionable.
In the 1950s and 1960s socks were mainly produced in nylon.  These were in subdued shades and incorporated Jacquard patterns.  Brighter coloured socks became more popular in the late 1960s and 1970s.  Terry knit sports socks were worn with tracksuits and trainers for casual wear.  Rising oil prices in the 1970s encouraged manufacturers to use cotton and other natural fibres.  'Fun' socks with cartoons and colourful designs first became popular in the 1980s.