Aristoc
Originally A E Allen and Company Ltd, was founded by Albert Ernest Allen. Allen was a former director of R Rowley & Co of Leicester who resigned from that firm just after the First World War.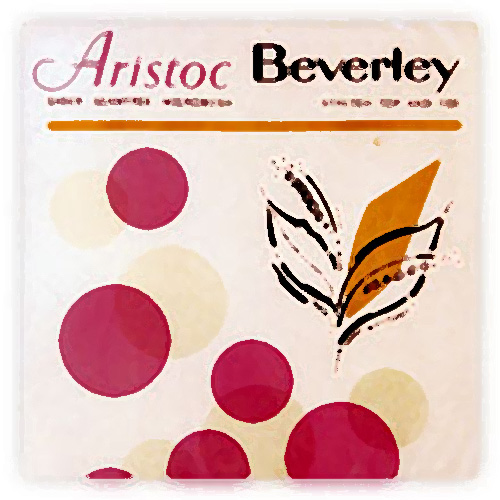 Financial support was provided for the venture by two friends, Percy Aspinall and J H Williams, a paper merchant, who later became chairman and managing director.
Fine gauge stockings were relatively new and Albert Allen visited the USA to investigate the manufacturing process.  He then commenced manufacturing in an old factory at Langley Mill, Derbyshire, a traditional hosiery manufacturing area with a reservoir of skilled labour.  The firm concentrated on quality merchandise and was committed to the manufacture of fully fashioned stockings.
The period between the late 1920s and World War Two saw continual progress.  The years 1925 and 1926 were particularly important because they saw the establishment of the Aristoc brand, heavy advertising becoming a feature of the firm from that time, and in 1934 the firm became a public company, changing the name to Aristoc Ltd.
World War Two was disruptive for the firm but it kept its property, plant and labour force together.  However, there was an important change; the production of silk stockings was stopped and replaced by rayon and cotton products which were new ventures for the company.
A shortage of labour was a common feature of the industry after the war and Aristoc suffered along with many other firms.  A factory was set up at Maltby in Yorkshire, in partnership with D Byford and Co of Leicester.  This remained a joint venture until 1952 when it was passed over to Byfords.  It was around this time that nylon became the preferred yarn for stockings which then became generally described as 'nylons'.
In 1955, Aristoc set up a factory on the Isle of Man.  Although the firm had built its reputation on the manufacture of fully-fashioned stockings, it was responsive to fashion changes and began the manufacture of seamless stockings.  In 1961 it bought the Meridian knitting plant on the withdrawal of that firm from the stockings industry.
In 1957 there were still three directors of the firm who were sons of the founders of the company.  By 1966 responsibility had fallen on H E Williams, the elderly chairman, and the firm passed into the ownership of Courtaulds. Aristoc remained successful and was able to command the highest prices for its product.  As a brand leader Aristoc was a useful acquisition for Courtaulds who needed customers for their own brand of nylon (Celon) and were able to use large quantities of that product.  At the time of the takeover, Aristoc employed 1300 workers making hosiery.
Despite the loss of many famous brand names Aristoc survived to become Courtaulds' preferred brand name for stockings at the top end of the market, and this continued in 2000, under the new owners of the brand, Sarah Lee Corporation.