Chilprufe Limited (Formerly J A Bolton)
John Bolton was born in 1867. The son of a doctor, he left his school, The Royal Masonic Institution for Boys, in 1882 and returned to his home at 74 Melbourne Road, Leicester.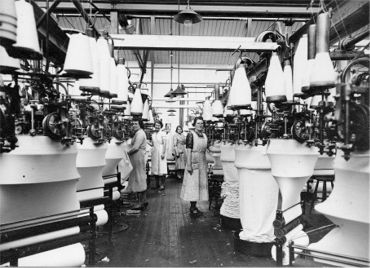 John was offered work by William Toller, who was then employed by Messrs Richard Harris, but following the firms bankruptcy he joined R Walker & Sons, rising to become finishing manager.
A man of strong Christian faith, in 1892 he considered entering the Baptist Missionary service but did not proceed, deciding that his future lay in the fabric finishing business. He then set up a business, The Blanket Dyeworks, in Gray Street. After a struggle in which the business nearly collapsed and used up all his mothers funds, he was rescued by a friend, but eventually was successful, going on to found the Leicester Dyeworks, although this was later sold to its manager.
In 1906, by which time he was established in East Park Road, he set up as a children's garment manufacturer specializing in woollen underwear, which was finished in his own works to very exacting standards, and was particularly noted for its bright-white colour, low shrinkage properties and its high quality yarn. The name Chillproofe was suggested by Mrs Bolton but this could not be registered and the name Chilprufe was established.
John Bolton's policy was to run the business 'on Christian Principles' - his own expression. He was well ahead of his time so far as the welfare of his workers was concerned. He was one of the first to advocate an eight hour day and holidays with pay and also a training school away from the factory floor. A major advance was the establishment in 1919 of a Workers Committee elected by the workers.
The firm made good progress and in 1923 had 700 employees, and despite severe problems during the depression of the 1930s, when it was necessary to reduce all wages by 10%, the workforce increased to 1000 by 1936. The firm was dedicated to high quality production and when wartime restrictions reduced the specifications of the garments the quality of the Chilprufe brand was not compromised, the brand names Lavender and Narcissus being used.
John was successful and owned a substantial house 'Tetuan' at Manor Road, Oadby and a series of Rolls Royce cars. He died in 1945 leaving over £300,000 in his will and an amazing legacy to his employees - 6000 shares in Chilprufe to the directors plus an extra 1000 to his niece Anne Preston, a director with many years service. All other employees with over 5 years service received between 50 and 800 shares, depending on length of service.
After John Bolton's death the firm suffered from changing fashions, decline in the drapery trade with its district agency system and the advent of specialist childrenswear chain stores and low-cost foreign imports.
Chilprufe Brand.
In 1962 the share capital and brand name was acquired by Pasolds (later part of Coats Viyella), owners of the famous Ladybird brand. The East Park Road Factory was no longer totally dedicated to Chilprufe brand sales but also made goods, including sportswear, for the larger chain stores such as M&S and Tesco. The factory closed in 1990.
Subsequent owners of the brand name were a newly formed privately owned company 'Chilprufe Ltd' (incorporating F Ellis Hosiery Ltd) followed later by Manchester Hosiery Manufacturing Co Ltd of Hinckley.
Take a photographic tour of the Chilprufe Factory in the early 20th Century.