Nottingham Manufacturing Company
The Nottingham Manufacturing Company (NMC) began in 1851 as Hine & Mundella. This was a partnership between three members of an old established family of merchant hosiers and A.J. Mundella, an outstanding young manager from Leicester.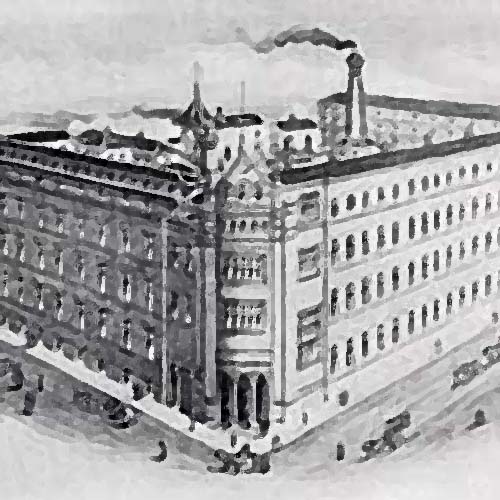 They built a large warehouse and steam-powered factory adjacent to the Midland railway station on an open gallery plan said to be inspired by the Crystal Palace exhibition hall.  The factory was the first one purpose-built to make hosiery by power.  It drove the newly developed circular knitting machines which produced tubes of fabric for stockings and underwear.  For some years this production complemented that of the firm's framework knitters who produced fully-fashioned goods in their own homes.
Hine & Mundella were innovators and prospered for over twenty years. They opened other factories in Loughborough (1859) and Chemnitz, Saxony (1866), and kept up with the rapidly developing technology by recruiting able young mechanics.  A London warehouse at the centre of the textile trade in Wood Street was acquired when Hine & Mundella bought out an old merchant company.  The firm was incorporated as Nottingham Manufacturing Co. in 1864, the earliest in the knitting industry to do so.  In 1868 Mundella was elected M.P. for Sheffield and from this time was less involved in the direction of the business.  Its leadership was soon overtaken by I & R Morley of Nottingham and Corahs of Leicester.
NMC closed its Nottingham and Chemnitz factories before World War I, but the large Loughborough factory continued to be a major producer until the early 1960s, when it began to show signs of weak leadership.  At this point it was taken over by the most dynamic firm of the period, Djanogly Bros of Mansfield Hosiery Mills, the principal suppliers of knitted outerwear to Marks & Spencer.  Djanoglys assumed the NMC name as an umbrella for the growing range of hosiery and knitwear factories through the Midland counties.  The Loughborough factory remained in production until 1995.