Wolsey Ltd.
The history of Wolsey Ltd can be traced back over two hundred and fifty years. As early as 1744 Henry Wood was trading in Leicester as a hosier.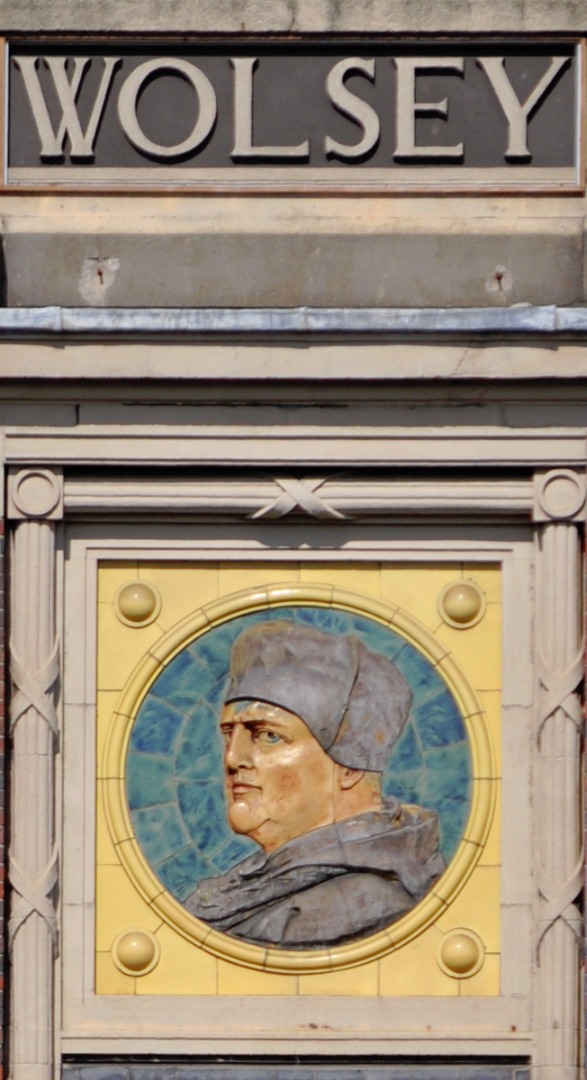 In 1748 he went into partnership with Job Middleton and they were joined by John Wrightman in 1750.  Around 1755 Henry Wood dissolved the partnership to form his own business. Henry Wood died in 1768 and the business was subsequently carried on by his widow, and later by his sons and grandsons, as Ann Wood & Sons.  In 1842 Robert Walker became a partner and after the retirement of Richard Wood the firms' name was changed to R Walker & Sons.
The firm's headquarters was situated close to Leicester Abbey, the burial place of Cardinal Wolsey, and the firm decided to exploit this historic link by establishing 'Wolsey' as one of the earliest established brand names.
In 1920, R Walker & Sons merged with W Tyler and Sons and soon began to supply the many high class retailers then in business with top quality underwear, knitwear, stockings, and the product for which they were probably most famous, socks.  The firm was soon renamed Wolsey. Wolsey Ltd traded directly with these retailers rather than through the wholesale network as was normal at that time.  The firm employed a number of travelling salesmen to service these accounts and advertised their merchandise worldwide.
Wolsey and Cardinal became household names.  In 1935 the Company, in recognition of its high quality and commitment to service, was awarded the Royal Warrant as hosiery manufacturers.
The firm became one of the foremost multi-product firms in the industry.  By the early years of World War Two, Wolsey was second only in size to Corah, the industry's major supplier to Marks & Spencer.
In the 1960s trading patterns were changing and the High Street chain stores were gaining strength at the expense of the private outfitters.  During 1964, in a move to strengthen the firm, Wolsey Ltd bought up the famous Scottish firm Lyle & Scott, which was also in the forefront of knitwear manufacturing. Lyle & Scott also produced the popular 'Y Front' briefs for men, a product that was in strong competition with Wolsey's underwear.
In 1967 the firm entered merger talks with Corah Ltd, Marks & Spencer's major supplier in the industry.  Wolsey's directors believed that Corah's strength in contract manufacturing would be complemented by Wolsey's strength in 'direct to retail' merchandising.  However, before the deal was completed, Courtaulds came in with a higher bid and Wolsey became part of Courtaulds. At this time the firm traded under the names of Wolsey, Lyle & Scott, Tubbs Lewis, Taylor Woods, Eminence, Wolsey of Canada, Wolsey Germany and Carl Guildstrand.
Courtaulds continued to produce Wolsey brand garments to the traditional high standard, but the very large sock producing plant at Bruin Street Leicester became the basis on which Courtaulds' Sock Division was to be formed.
Courtaulds was heavily committed to contract trading, particularly to M&S, and it was decided in 1996 that the future of this famous brand would be best served outside of the Courtaulds' Group and Wolsey Ltd became independent once again.
In 2002 this firm in turn passed into the ownership of Matalan, a discount- trader.